On Sunday we spent the afternoon in the garden enjoying the sunshine.  We thought we would clear some wet sand out of one of the Tuff Spots, and Rabbit and Tiddler enjoyed helping to lift spadefuls of sloppy wet sand into the wheelbarrow.  However, it soon became clear that they were having a lot of fun playing with it, so we changed our plans and let them carry on.  We experimented with making marks in the wet sand and the children also buried their hands in it.  Tiddler got right in there and stomped around in it too.
We then got some vehicles and Tiddler made tracks in the sand, while I drew shapes and Rabbit wrote some words.
This went on for a long time!
And I had as much fun as the children did!
When the little ones had finished, we removed most of the sand and then added our leftover rice and lentil mixture (I think there is a bit of flour in there as well!)  This was more appealing to Monkey, who prefers "clean" messy play, so he and I spent quite a long time making marks in it, while the others dipped in and out of the activity.
The vehicles were added back in and more tracks were made.
And then of course there was the fun of washing the toys!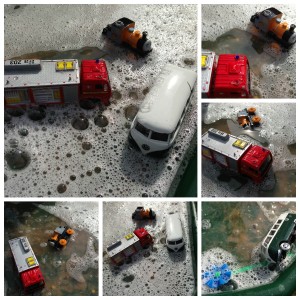 Meanwhile, in the other Tuff Spot…
Rabbit, Tiddler and I planted some of the enormous stash of seeds leftover from last year.  I know it is a bit late for some of them, but it is such a fun activity and the seeds are not going to improve by being left for another year so we decided to try our luck.
Next we did some mark making and Tiddler drew a snake so I showed him how to write the letter "S" and we talked about how it looks like a wiggly snake.
After that, Owl and I did some more writing and drawing in the rice mixture, while Monkey made mud pies with the compost.
It was a lovely afternoon and once again it reminded me that the best play is often completely unplanned!