We have made story sacks before, but not for a long time and I've been meaning to do some more, so I was really pleased when I found this excellent resource pack while browsing on twinkl.  We love the Gruffalo, and have read it hundreds of times over the years.  It has stood the test of time, as it still appeals to all the children now, so I knew it would be a good one to get them all involved in.  Since Monkey has decided that Friday should be book day, we have set aside time on the last couple of Friday afternoons to make and play with our Gruffalo story sack.
One day I might get round to making a beautiful drawstring bag for our story sack, but for now we are using a pillowcase!  I do, however, have a nice little bag for some of the smaller pieces – I can't claim the credit as it was made by a friend and given to us years ago when Owl was very small.
In our story sack, we have two copies of The Gruffalo, a board book and a much-loved, dog-eared paperback.  We also have a copy of The Gruffalo's Child.  I have added some non-fiction books about owls and mice.  I thought we had one about snakes but I can't find it, so maybe I was too ruthless in my clear-out in the summer holidays – on the other hand, it might turn up.  We have a lot of books in this house which is wonderful, but it can make it hard to find the one you want sometimes!
We also have some conkers in the picture, which is a bit random but they were on the table at the time and we thought they were quite appropriate for a woodland story and fun to play with.  We might keep a few in our story sack, and maybe add some acorns and nuts.
We have cut out and laminated the word mat and describing words, story scenes and characters, and also the animal masks, though we haven't added elastic yet.  Owl made and laminated the names of the characters, and gave them to Rabbit and Monkey to match with the animals.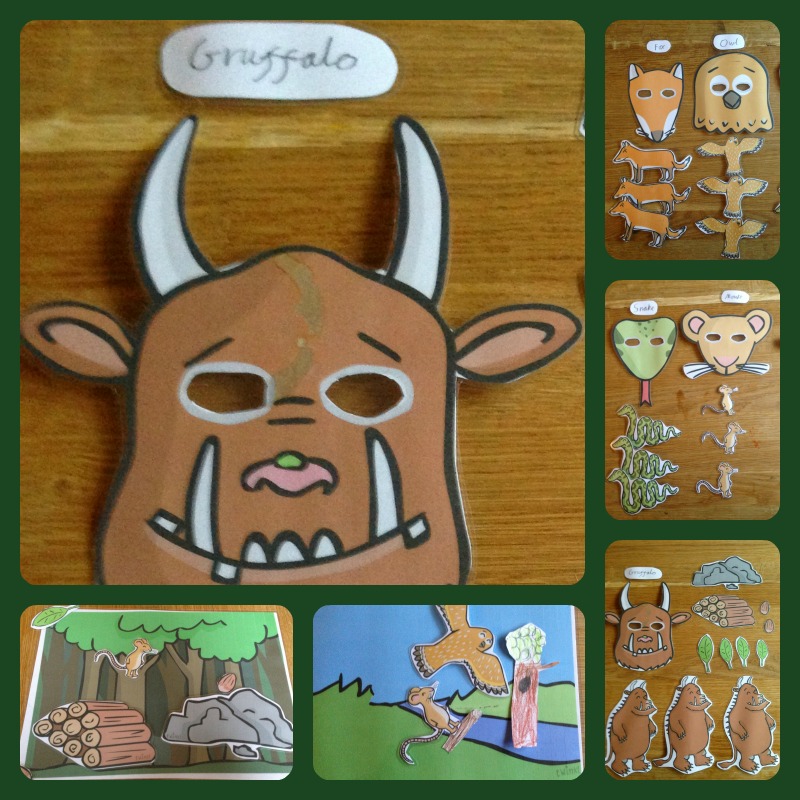 Owl and Monkey played with the story scenes, and Monkey made a tree to add to one of them.  It's a really lovely way of retelling and talking about the story, and I need to do it with Tiddler as well when he is in the mood, as he loves telling stories!
The big three children then drew pictures and labelled them using the word mat.  This was obviously easy for the boys, but Rabbit really made use of it, working out how to write "owl ice-cream" and "mouse on bread" without any help, so it was perfect for her.
We had also printed out the colouring pages, and the big three did one each.  Tiddler coloured in two (the mouse and the snake) and I was really pleased with his concentration and effort – he took it very seriously, especially the mouse's tail for some reason!
We have really enjoyed making our story sack, and it has sparked off lots of creative ideas so I'm sure we'll be adding to it.  Monkey made a brilliant model of a tree which somehow didn't make it to the photos, so we might continue that and make some 3D story scenes.  It has also reminded Monkey that he really really wants a Gruffalo cuddly toy for Christmas.  He's asked for one several times before, and now that we have made our story sack I think we might be getting one!
We were given a free subscription to twinkl premium for the purpose of reviewing this and other resources.