I was very pleased to be offered the chance to review Let's Read! Room on the Broom for Macmillan, because we love Julia Donaldson and Axel Scheffler.  The children already know and enjoy the story of Room on the Broom and we found it interesting to compare the Let's Read version with the original.
Let's Read! Room on the Broom, paperback, £4.99, published by Macmillan
The Let's Read series takes the complete original stories of popular picture books and re-designs them to support children who are growing in reading confidence.  I asked the children what they thought of the new version and they said that they liked it.  They noticed that the print was clearer, with a child-friendly font (no strange curly letters like "a" and "g") and the enlarged capitals at the beginning of each page have been replaced with normal-sized ones.  The book itself is a suitable size for a child to hold.  It is also shaped like other books which might appeal to older children, so they will not associate it with a younger child's picture book.  I think it is a really clever idea, to extend the life of some excellent stories which can appeal to children of all ages.
The story is about a witch and her cat who fly happily over forests, rivers and mountains on their broomstick until a stormy wind blows away the witch's hat, bow and wand. They are retrieved by a dog, a bird and a frog, and each animal asks for a ride on the broom. They climb on, one after the next, until the broom is so heavy that it snaps in two!  They tumble into a bog and meet a greedy dragon who wants to eat the witch.  The story cleverly culminates in a perfectly satisfying denouement.
After reading the story, the children had fun drawing pictures of the cover image.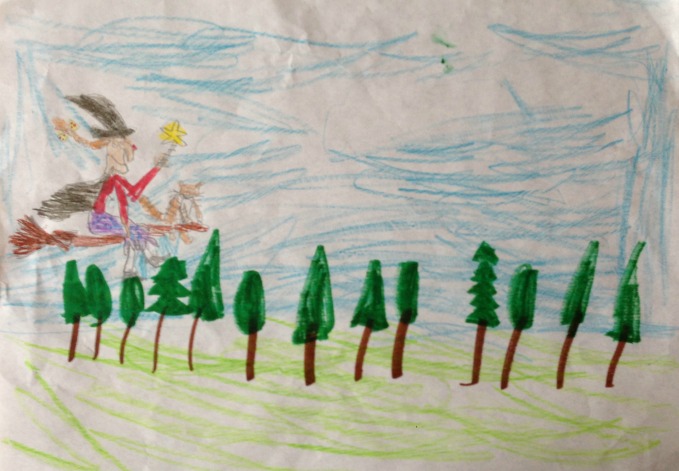 All of the children really enjoyed the book.  The older boys could easily read either version, though I think the new one might appeal to them most.  Rabbit can't read it all yet, but she definitely finds the new version more approachable and I think the series will be really useful to her as her reading skills develop.  And Tiddler was keen to read it too.  At first he had a look and said, "Hmm, I don't know all the words…", but then he decided not to let that stop him and sat happily reading the story to himself for several minutes.
Thank you, Macmillan, for sending us this book to review – it is a great addition to the collection, and we are really excited about the Let's Read series.
We were sent the book free of charge for the purpose of this review.