This post was written by Paul who was also the chef.
Nigellissima – most Nigella
The last cook book that came into our house, in March, was Jack Monroe's "A Girl Called Jack". At the time we'd been living off tinned tomatoes and lentils for weeks, and fell upon her recipes with the grateful desperation of a family ready to have their lives transformed by adding a beef stock cube and some shredded mushrooms to their terrible attempts at fake Bolognese.
Six months later, on the upward curve of the thriftspend cycle, enter Nigella. Nigella with her simplicity, her glamour, and her insistence on quality. Nigella with her mixture of the commonplace (tomatoes, semolina, lentils), and the expensive (sirloin steak, fresh figs, 70% cocoa chocolate). So, riding the fiscal upswing, we invited friends round and cooked loads of dishes. What's the point of using a cookbook from a supreme entertainer if you don't entertain with it?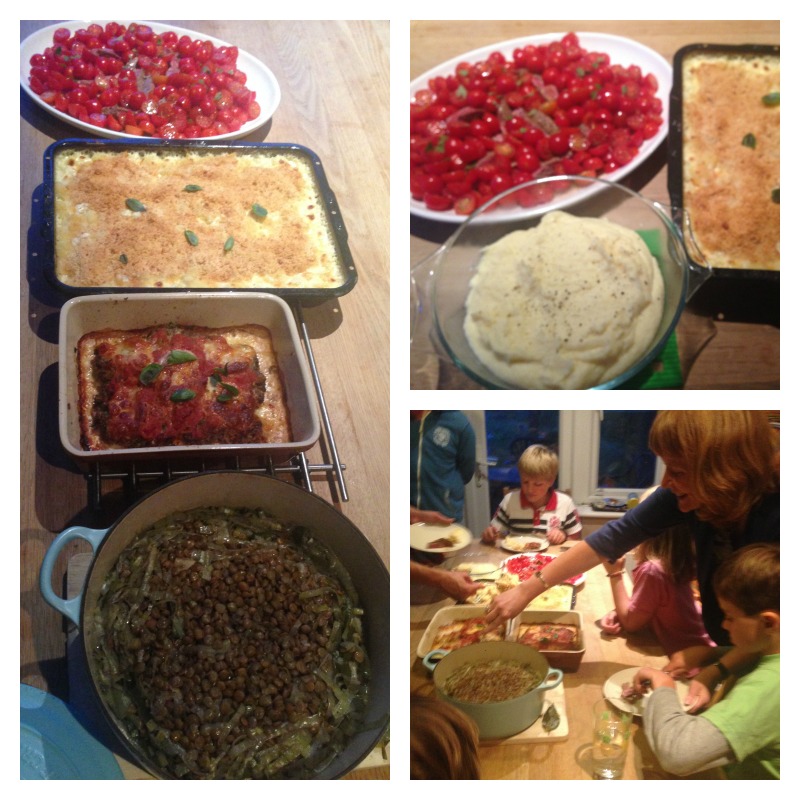 This was the menu, scaled up for four adults, two teenagers and five children aged 10 to 4:
Tagliata
Mock Mash
Italian Golden Lentils
Gnocchi Gratin
Meatzza
(Broccoli)
Instant chocolate mousse
Baked figs with honey and cream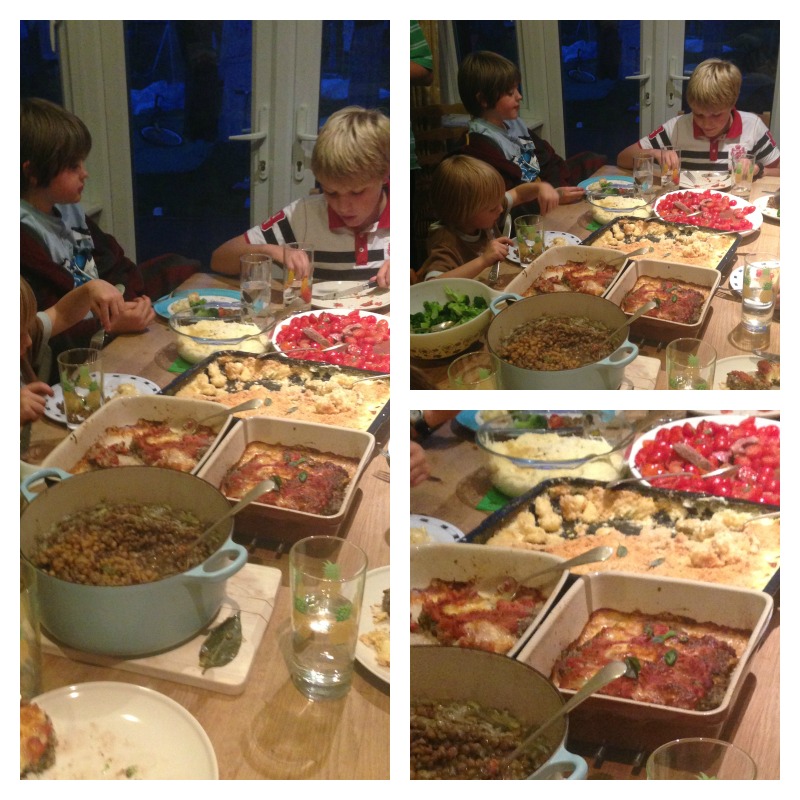 Tagliata is delicious. Buy the most expensive sirloin you can afford, make some vinaigrette with added chilli flakes and pour over cherry tomatoes chopped in half, cook the steak properly and slice it after resting, then arrange the whole lot on a plate topped with fresh oregano. Total cost of ingredients £25 – an easy party piece. None left over. Tomato and beef salad – who knew?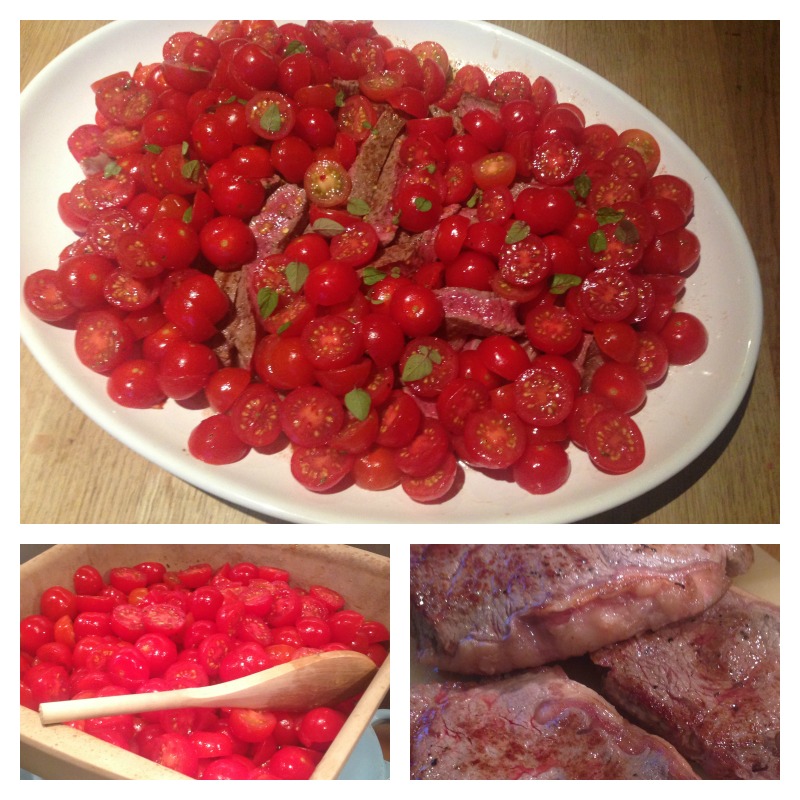 Mock Mash was a surprise hit – also none left over. Take semolina and cook in milk, then add parmesan, seasoning and nutmeg. Total cost £5
Italian Golden Lentils was less popular, but probably because we've seen quite a lot of our little pulse friends recently. And it wasn't a fair test as, with an hour to go before the guests arrived, I realised I'd forgotten to buy the necessary Castelluccio lentils and garlic oil, so substituted green lentils and olive oil with crushed garlic in it. But the dish itself was really nice – I'd never cooked lentils with leek and thyme before. Fry leeks, add lentils, thyme, bay leaves and water. Serve when cooked (fish out bay leaves). Total cost only £1.50
Gnocchi Gratin was easy to make and quickly eaten, the only leftovers caused by the abundance of other food on the table. Heat mascarpone and milk in a pan and dissolve parmesan in it. Cook gnocchi, put into oven dish and cover with a mixture of breadcrumbs and more parmesan, put into oven and take out when golden. Total cost £12
Meatzza was tasty but overshadowed by everything else. The concept is simple enough – take beef mince and add herbs and spices (a bit like making lamb kofte mix), then pat down into an oven dish before covering with chopped tomatoes and mozzarella slices to form something that looks like a pizza. We'll try it again on its own later. Total cost £15
Broccoli was meant to have been Nigella's lemon and parmesan version, but we ran out of time so it was just broccoli. Take broccoli, chop into florets, chuck into water then guess how long it takes to cook.
The instant chocolate mousse was fab, and easy to make. Instead of egg, use condensed milk to thicken and bind the mixture of melted luxury chocolate and partially whipped cream. Leave to chill in the fridge then top with more partially whipped cream. The recipe called for orange liqueur but I left the booze out because of the children. Total cost £12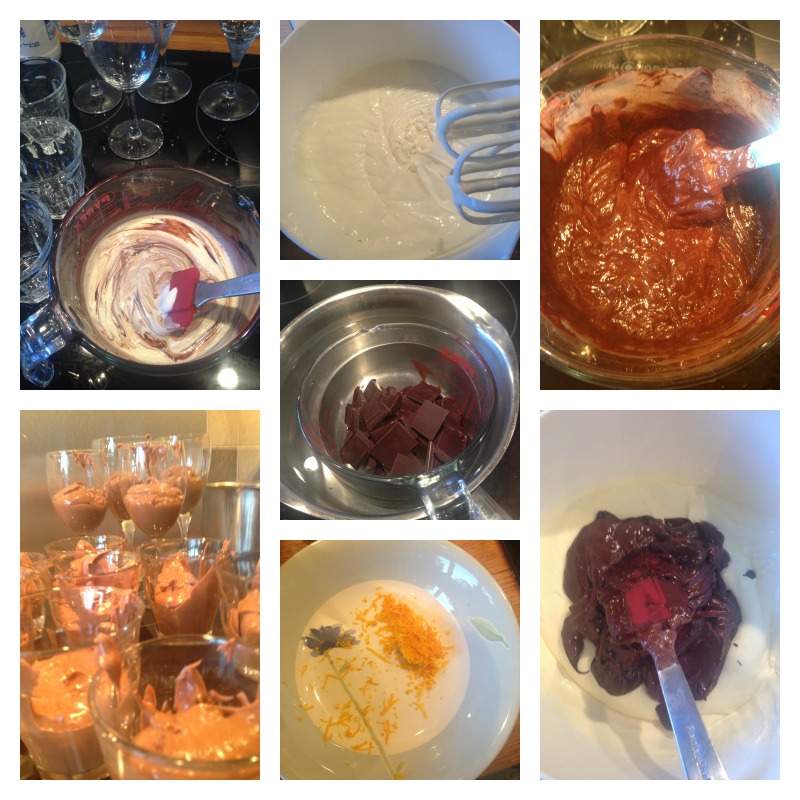 Baked figs with honey went down a storm with the grown-ups, less so with the children (although the kids were pretty full by then). Cut and split figs without severing them completely, and drizzle olive oil over them before baking for 10 minutes. Prepare mixture of warm cream and honey, and chop unsalted pistachios in mini chopper. Pour honeyed cream over hot figs, sprinkle chopped nuts and serve. Total cost £12
None of the recipes were difficult to follow, although I do wish I'd got the herbs sorted out in advance instead of running around the garden in the dark trying to pick thyme and oregano. I started prepping an hour and a half before the meal by opening the first bottle of Bardolino and finding Don Giovanni on the ipod. Chocolate mousse was next (as it had to be chilled before serving), then the Meatzza (which could be baked at the same time as the gnocchi but I didn't want to be handling raw beef whilst cooking everything else). Then the lentils were put on, then the gnocchi prepared. Finally the tagliata and mock mash happened simultaneously, and the figs were got ready for throwing in the oven after the main course.
Would we use Nigella's book again? Yes! Could we regularly afford to buy premium cherry tomatoes, sirloin steak, decent mince, pounds of parmesan, mascarpone? No! We could save Nigella's book for special occasions or we could experiment. Can the chocolate mousse survive the ignominy of Sainsbury's basics dark chocolate? Can the mock mash be made with 'Italian hard cheese' rather than real indicazione geografica typica parmesan? Because given our recent experience you could survive at least a year with just two cook books – Nigella's and Jack's – and change the ingredients to suit your budget. Have these two passionate ladies met? Can someone arrange it, and send me a preview copy of the resulting hybrid cookbook? Thank you.